The college football season is right around the corner, so Rivals national recruiting director Adam Gorney took the lists of projected starters for each Power Five conference from the Lindy's preseason magazine and broke them down by star ranking coming out of high school.
Today, we move on to the Big 12.
Note: Five-star players are allotted five points, four-stars get four points and so on for each of the 22 starters on every team.
T-1.
OKLAHOMA
Total points: 81
Overview: Oklahoma and Texas have exactly the same amount of stars for their projected starters which makes this rivalry even more interesting. The only five-star for the Sooners is WR Theo Wease but four-stars abound cross the board whether it's RB Eric Gray, WR Marvin Mims, four of the five offensive lineman led by Wanya Morris and others. The story is the same on defense, with four-stars up and down the lineup like DL Jalen Redmond and Reggies Grimes, linebackers DaShaun White and David Ugwoeegbu and talented defensive backs Billy Bowman, Woodi Washington and Key Lawrence. Oklahoma could be even higher if QB Dillon Gabriel's ranking out of high school, a high three-star, more appropriately matched his college career.
SHARE YOUR THOUGHTS WITH OKLAHOMA FANS AT SOONERSCOOP.COM
*****  
T-1.
TEXAS
Total points: 81
Overview: The Longhorns are loaded starting with five-star quarterback Quinn Ewers, who ended up as the No. 1 prospect in the 2021 class, and five-star RB Bijan Robinson, one of the top players at his position in college football. Four-stars abound, too, whether at receiver with Xavier Worthy and Jordan Whittington or on the offensive line with Junior Angilua and Jake Majors although that's seen as one of the weaker spots on the team, or across the defense as well. Defensive linemen Keondre Coburn and Alfred Collins, LB DeMarvion Overshown and then D'Shawn Jamison, Ohio State transfer Ryan Watts and safeties Jerrin Thompson and Anthony Cook were all four-stars.
SHARE YOUR THOUGHTS WITH TEXAS FANS AT ORANGEBLOODS.COM
*****  
3. WEST VIRGINIA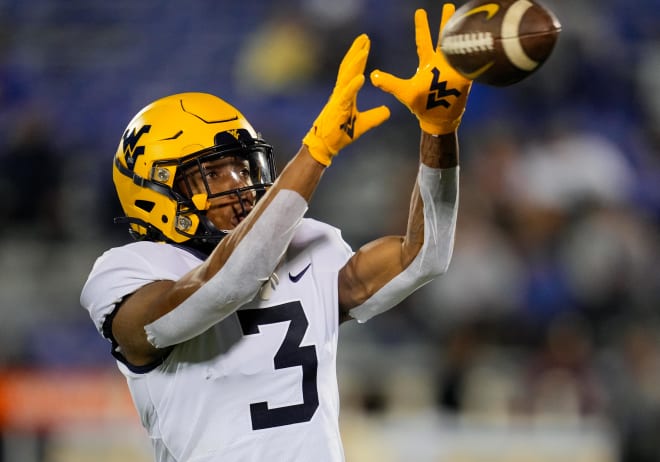 Total points: 65
Overview: Based on star rankings of projected starters, West Virginia could be a surprise team to watch in the Big 12. A former five-star quarterback in JT Daniels leads the Mountaineers with four-star WR Kaden Prather and some three-star talent around him coming at wide receiver. Three-stars Sam James and Bryce Ford-Wheaton each had 42 catches last season. Four-star OL Wyatt Millum and Doug Nester anchor the offensive line. Four-star DL Dante Still leads the way there and then there is a loaded linebacker group with four-stars Lance Dixon and Lee Kpogba up top. The secondary is interesting and West Virginia's point total would be much higher but Charles Woods (Illinois State), Jasir Cox (North Dakota State) and Marcis Floyd (Murray State) all went unranked in high school.
SHARE YOUR THOUGHTS WITH WEST VIRGINIA FANS AT WVSPORTS.COM
*****  
4. OKLAHOMA STATE
Total points: 63
Overview: On a potential top-10 team nationally, the Cowboys have only two players who were ranked four-stars in quarterback Spencer Sanders and defensive back Kendal Daniels which means many of their other projected starters were under-ranked. Former three-star WR Brennan Presley had 50 catches and five touchdowns last season, while the Cowboys' defense that allowed just about 18 points per game was filled with Daniels, a whole host of three-stars and DB Thomas Harper, who was ranked as a two-star. Once again, Oklahoma State is proving many of its players didn't get the respect they deserve.
SHARE YOUR THOUGHTS WITH OKLAHOMA STATE FANS AT OSTATEILLUSTRATED.COM
*****  
5. IOWA STATE
Total points: 62
Overview: Matt Campbell has done such a phenomenal job in Ames and yet many of his top players have not been granted rankings commiserate with their abilities. Top receiver Xavier Hutchinson, who caught 83 passes for 987 yards last season, was a three-star prospect from Brenham (Texas) Blinn C.C. Will McDonald, one of the top defensive linemen nationally, was a three-star out of Milwaukee (Wisc.) Waukesha North. The only four-star among the 22 projected starters is running back Jirehl Brock and we know Iowa State will be one of the tougher teams in the Big 12 so that looks like a miss.
SHARE YOUR THOUGHTS WITH IOWA STATE FANS AT CYCLONEREPORT.COM
*****  
6. TEXAS TECH
Total points: 61
Overview: There are a lot of transfers among the projected starters for the Red Raiders whether it's four-star QB Tyler Shough (Oregon), four-star tight end Baylor Cupp (Texas A&M), three-star OL Monroe Mills (Oklahoma State), three-star DE Tyree Wilson (Texas A&M), three-star LB Jesiah Pierre (Florida) or three-star DBs Rayshad Williams (UCLA) and Malik Dunlap (NC State) there are a lot of players from somewhere else. Still, Texas Tech's number could be higher but LB Kosi Eldridge went unranked and RB SaRodorick Thompson has outplayed his two-star ranking.
SHARE YOUR THOUGHTS WITH TEXAS TECH FANS AT REDRAIDERSPORTS.COM
*****  
7. BAYLOR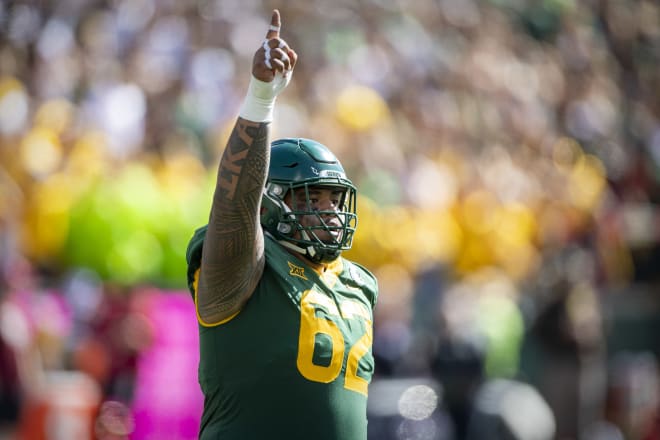 Total points: 59
Overview: Baylor is another team in the Big 12 that probably isn't getting the respect they deserve from a star ranking perspective. It also did not help the Bears' point total that receiver Josh Cameron and OL Jacob Gall went unranked coming out of high school. The only four-star on offense is RB Taye McWilliams so OL Connor Galvin as a three-star was definitely under-ranked. Four-star DL Siaki Ika leads the way on defense but with the talent on that side of the ball with Al Walcott as a two-star and everyone else a three-star, many of Baylor's defenders look under-ranked.
*****  
8. TCU
Total points: 59
Overview: TCU's offense has a good amount of four-stars whether it's QB Max Duggan, WR Taye Barber, OL Wes Harris or star receiver Quentin Johnston along with a healthy amount of three-stars as well. The defense is an interesting group, though. The only four-star among the projected starters is safety Bud Clark and then there were some clear under-ranks with defensive linemen Dylan Horton and Terrell Cooper and Soni Misi and CB Tre'Vius Hodges-Tomlinson all ranked as two-stars coming out of high school.
*****  
9. KANSAS STATE
Total points: 56
Overview: This is an incredibly interesting group as some important transfers are in there, some major position changes and some under-ranked players that have played much better than their projection coming out of high school. Four-star Nebraska QB transfer Adrian Martinez is a big addition and three-star LB Will Honas came from the Huskers as well. Two-star TE Sammy Wheeler and three-star safety/linebacker Shawn Robinson played quarterback in high school. Star running back Deuce Vaughn was a low three-star but he has absolutely outplayed that ranking by miles.
SHARE YOUR THOUGHTS WITH KANSAS STATE FANS AT KSTATEONLINE.COM
*****
10.
KANSAS
Total points: 54
Overview: Ten of Kansas' 22 projected starters were ranked as two-star prospects and there were definitely some misses along the way but there are some talented players as well. The only four-star is Michigan State cornerback transfer Kalon Gervin but there are some three-stars as well especially at wide receiver with Lawrence Arnold, Luke Grimm and Steven McBride. Linebackers Taiwan Berryhill and Gavin Potter and safeties Kenny Logan Jr. and Craig Young were some other three-stars. Two-star QB Jalon Daniels could prove us wrong this year especially since there is talent at the skill positions with those receivers and three-star RB Devin Neal.
SHARE YOUR THOUGHTS WITH KANSAS FANS AT JAYHAWKSLANT.COM